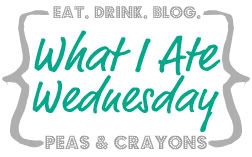 Forgot what
WIAW is? Check out
this blog
to learn more.
Without any further ado, let's just get right to it...
Coffee with creamer and truvia, cinnamon raisin toast with spray butter (so healthy) and a leftover cookie
2 bites of this KIND bar.... it was an impulse purchase and I did not like it.
2 egg omelet with low-fat mozzarella cheese and avocado chunks (leftover from Bailey's lunch, thankyouverymuch), cantaloupe and a Diet Pepsi
Avocado Chicken Burger (using this recipe) and green beans and a big glass of ice water
Chocolate covered vanilla ice cream pop
Oh, and there was some (unpictured) air-popped popcorn at some point in the evening after dinner, too.