Poor BaileyBug had a sick week last week. Luckily, she's back to her normal, go-go-go, smiley self now. However, last week was not pretty. There were days when she wouldn't let me put her down long enough to pee without crying. Fun times, let me tell you. Anyway, below are my eats from last Wednesday, one of B's sick days. She napped OK, which helped me get OK meals, but I also didn't have a TON of time because I never knew when she was going to wake up or need to be held. Poor girl! Broke my heart!! Anyway-- let's do this, WIAW.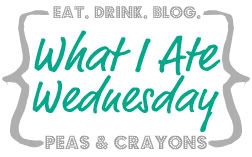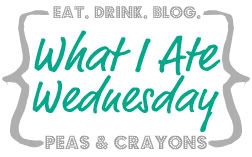 Breakfast:
Tuesday night after B went to bed I made pumpkin spice muffins for a Mom's Club event the next morning. Sadly, we never made it to the event because B was diagnosed with HFM and was contagious still. Poor me-- I had to eat the muffins myself. Don't be fooled by the pic-- I ate 2 more after that 1. Yuuuum. With a big, giant side of coffee.
Snack:
Several handfuls of these. Healthiest choice? Nope. So did not matter.
Lunch:
Luckily, Bailey took a good afternoon nap, so I had time to make SUCH A GOOD (& quick!) LUNCH!! Grilled deli turkey and cheese sandwich on one of those healthy wrap things. Pretzel sticks and grapes and an unpictured Diet Pepsi. So good.
Dinner:
The Hubs had to work late and B was incredibly clingy. I had ZERO time to cook anything before the Hubs got home, so I fed B some leftovers and called it good. However, earlier that day I took some local bison meat (that I bought after touring the same farm that bison was raised at on a Mom's Club tour with B-- so fun!!) that was in the freezer out to thaw and I chopped up 2 sweet potatoes. Thank goodness for planning ahead! The Hubs got home just before B went to bed, so I tossed the sweet potatoes in some extra virgin olive oil & salt and pepper and threw them in the oven at 400* and formed the bison burgers while he was playing with her. Then, I nursed B while the Hubs grilled the burgers on the George Foreman. When I finished, the fries and burgers were done and we ended up having a really great (though late) dinner.
Dessert:
SO MANY spoonful's of this ice cream. Seriously, so good.